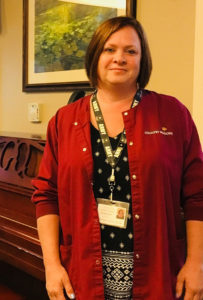 I started my career at Country Meadows nine years ago working per diem. I had no intention of ever leaving where I was working as a nurse at a hospital on an oncology unit and before that, another nursing rehabilitation center for many years. I loved my job, but a friend was working at Country Meadows and mentioned that they needed per diem nurses so I applied. Never thinking I would ever leave the hospital, I did, and I will tell you why.
It wasn't long after starting that I could see how the Country Meadows staff interacted with each other, supporting one another and truly caring about the residents. I truly enjoyed working here. Then much to my surprise, they offered me a full-time job as a Medicare Assessment Coordinator. Apparently, Country Meadows saw something in me that even I didn't and an opportunity to learn something new.
When I started County Meadows, I had been an LPN for 18 years. I always considered getting my RN license, but it just didn't seem possible for me. It was already a huge decision for me coming from a job that I was intending on staying at and then becoming a Medicare Assessment Coordinator for Country Meadows. But in that short time at Country Meadows, I truly felt like I found my forever job. I felt that I was part of something bigger and better—a place that I could grow.
I accepted the new position, and Country Meadows was true their promise in providing me with the support and education I needed to succeed. From there I accepted a position as a Restorative Nurse. Through all these changes, they always provided me with training and support I needed to succeed.
I actually started to believe that I could accomplish anything, and so I enrolled in college and started taking classes for my RN degree. After a few years in my Restorative position, I was asked to take an Infection Control position. My initial response was "no, thank you" as I knew nothing about Infection Control and found comfort in my Restorative role. My supervisor sat with me and pointed out all the reasons why I would succeed in this role, and that they, of course, would provide me with the resources I needed. So, I accepted.
I cannot put into words how coming to work for Country Meadows truly has changed my life—the possibilities for anyone here are endless. This company has helped me reach my lifelong goal of becoming an RN, and the support that I received along the way has left me speechless. Whether it was adjusting my schedule to accommodate school or just lending an ear when things seemed impossible, they were always there. I am proud to work for an organization that holds such high standards with not only the care of our elderly, but its employees as well. Here at Country Meadows, the opportunities are endless.
Read other nurse stories and learn the top 10 reasons to work with us. Or review open positions and apply today.