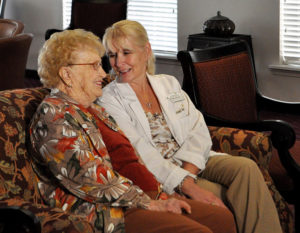 My name is Debbie Johnson, and I have been an LPN at Country Meadows Retirement Communities for over 15 years and currently serve as a Director of Wellness. From the support of my Country Meadows team, in 2012 I received the Pennsylvania Health Care Association/Center for Assisted Living Management's "Nurse of the Year Award," and in 2013 I was nominated for the Central PA Parent's "Healthcare Hero Award."
Country Meadows has several retirement community campuses offering independent living, assisted living/personal care and memory support and is a wonderful place to work. It is more like being at home than work. You see, I work with an amazing team of co-workers who are all here for the same reason: for our residents in their home. Because our residents give us so much, we, in return, want to give back to them all we can to let them know they are loved and appreciated. They become your family away from home, and they teach us so much about life, caring and compassion.
I have worked in skilled care and am very happy for that opportunity, but personal care is where my heart and soul are at their best. Personal care continues to allow me to practice my nursing skills though not in the form of trachs or feeding tubes, rather, using my assessment skills. While taking vital signs, we observe for changes in health status and take the necessary steps to restore health. We bond with our residents on social, emotional and spiritual levels. We know their families, and they know us.
A personal-care setting can be a perfect place to begin your career or a welcomed change in your current career. Join us and see how you can make a difference in personal care.