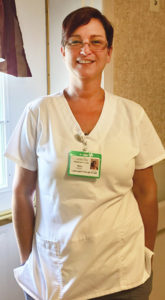 I started my career at Country Meadows 18 years ago working in the kitchen, and I never intended on staying. I had gone to college for design, which was my childhood goal. This was just to be a stepping stone to my dream of becoming a designer.
Soon after I started here and began interacting with my peers and the residents, did I realize I really loved working with the elderly. I had never considered healthcare, and perhaps I was being too hasty. I was constantly encouraged by staff and co-workers to pursue healthcare. They showed me by their actions and presence that I had a "gift" and seemed a natural in this environment. After much consideration and support, I obtained my CNA license. For their encouragement and support, I am forever thankful as I realized that this is where I belong.
Since that time, I have had many opportunities here at Country Meadows, and I really believe this is where I was destined to be. I took a position as an aide and just loved taking care of people, the friends I made and support I got made me feel like I had found a place I belonged.
Thankfully, throughout my career at Country Meadows there has always been room to grow. My confidence was boosted when I accepted a promotion as a Restorative Aide and learned so much more about caring and encouraging my residents to keep moving.
I loved this position, but after a few years I started to consider going on for my LPN. After sharing this with one of the nurses, she encouraged me to "take one class at a time, you can do it, and I will help you." That was all I needed to hear! Everyone I worked with offered so much encouragement. With that support I enrolled in college, and with a lot of hard work, and a few years later, I am an LPN with the very company I started with 18 years ago.
There are not enough kind words I can say about the support and family-like atmosphere here. Management has always worked around my schedule with work and school, and I can't imagine being part of anything else. I am proud to work for a company that cares so much about their residents as well as employees.