April means one thing at Country Meadows: Practice Random Acts of Kindness. Organization co-founder, Mary Jane Leader, made kindness a daily practice so, to honor her memory, Country Meadows dedicates an entire month to going the extra mile. We set aside the month of April for paying-it-forward and looking for the extra opportunities to make the lives of others a little brighter through a simple, kind gesture.
This year, Country Meadows of York extended help, kindness and companionship to the clients at Mr. Sandy's Homeless Veteran's Shelter in York City. Through the month, co-workers collected toiletries and nonperishables while residents packaged them into individual care kits. But rather than drop off the kits and call it a day, our Country Meadows co-workers delivered the kits with a bus load of veterans from the campus. The dining team made a delicious meal while our veterans sat with the homeless veterans to eat and socialize.
Watch a video of their day together.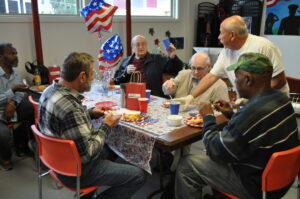 Continue reading to see the other acts of kindness from all of the Country Meadows campuses.