Recently future residents and co-workers, friends and neighbors of Country Meadows of Forks in Easton had a first look inside the brand new retirement community. Set to open next month, CountryMeadows offers senior living accommodations including Independent Living, Assisted Living, Personal Care and Memory Support.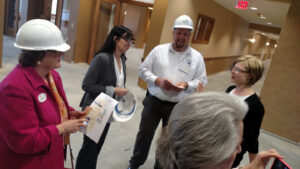 Amenities and functionality drove the interior design with Country Meadows residents, prospective residents and their families serving as primary consultants. Since natural light improves mood and mobility, the campus' design incorporates as much natural light as possible. In addition to natural light, the emphasis is on color and texture in the spacious gathering areas. The dining space, which features large windows and stacked-stone finishes, is designed to recreate a five-star dining experience within a comfortable family atmosphere. A separate private dining area is available for small family celebrations.
Outdoor living is easy for residents with a series of courtyards and gardens complete with benches, walking paths, balconies, covered porches and raised planters for resident gardeners to enjoy summer hobbies. The secure Connections memory support neighborhood features a courtyard built to offer a safe location for residents to enjoy the great outdoors.
Inside, the architectural style continues with a seamless look that travels throughout public spaces. The dining room is open to the living room and the adjacent multipurpose room. With a flexible design feature inspired by experience, all of these areas can be opened to create one large elegant space for campus-wide gatherings and community events such as receptions or ceremonies. They also can be closed to accommodate smaller, more intimate affairs. The areas are unified with more than 16,000 feet of painted and stained wood trim and cabinetry, stone fireplaces and large windows to maximize the amount of natural light to all spaces.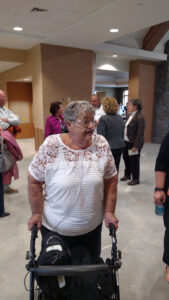 The modern design also incorporates a full-service beauty salon, fitness center and therapy suite, making it easy for residents to access and use services to maximum benefit.
Based on common requests, individual apartments are a generous size and feature high-quality finishes with natural wood cabinetry and quartz countertops. Each independent living apartment has a full kitchen and a laundry center equipped for a washer and dryer, and assisted living/personal care accommodations include private kitchenettes. Large bathrooms are 100 percent ADA-accessible in every apartment.
Peppered throughout residential areas are common areas for neighbors and friends to gather. Living and media rooms are comfortably appointed for group television viewing, movie night or other activities within the neighborhood.
To learn more, email Forks@CountryMeadows.com or call 484-544-3880.