Joyce Bedner looks forward to daily visits from her husband, Patrick. Despite living with Alzheimer's disease, she remembers her husband as well as how much she loves him. "We've been together for so long, and we always do things together," she says.
The Bedners were married nearly 54 years ago, and reside at Country Meadows of South Hills of Pittsburgh. Theirs is a beautiful love story that is standing the test of time, as well as their wedding vows. Though they live in separate apartments so each spouse can receive the care he/she needs, the couple makes a point to spend time together nearly every day, and is regularly seen on campus holding hands and enjoying an embrace.
"I remember when we got married the vows were, 'for better or worse until death do you part,' and I take that seriously," says Mr. Bedner. His wife echoes his sentiment and says, "You do."
Mr. Bedner moved into an apartment in the campus' Personal Care building just one week after his wife moved into the Connections Neighborhood for persons requiring memory support services. While living in their own home, Mr. Bedner realized that he could no longer provide the care his wife needed for her Alzheimer's syptoms. He had his own health issues, and after suffering bruises and injuries from falls, he knew it was time to seek help.
"We looked at a lot of places, but many [senior living] facilities don't have a memory care facility like we have here. Some were too small and we would be separated and unable to see each other," recalls Mr. Bedner. "We knew a few people who had relatives here [at Country Meadows] and they were high on the buildings and service. We heard a lot of good things and it's turned out very well for both of us."
Despite living in separate buildings, the Bedners spend lots of time together. Mr. Bedner visits his wife's building nearly every day, and the couple has lunch together most days. They take turns dining in each other's buildings, and enjoy interacting with other residents. "I appreciate Country Meadows' flexibility and they adjust transportation to accommodate me," he says. "I love my wife, and seeing her is the light of my life."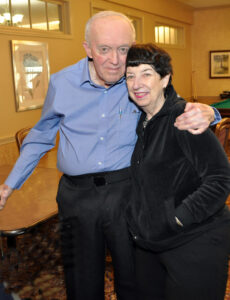 Mr. Bedner continues. "There's a story about a man who was rushing to get to another appointment. When asked where he was going, the man said that for five years his wife had Alzheimer's and hasn't known who he is. When further questioned why the man continues to visit his wife if she has no idea who he is, the man replies, 'Because I still know who she is.' That struck a chord with me," he says, choking back tears.
Connections Memory Support Program Manager, Maureen Sirianni, says, "In order to be successful in supporting our residents, we have to be flexible, we have to do creative things not only because it's the right thing to do, but because they need to still feel connected. They need to know they are still married and they still need to be connected."
And this couple is connected. In addition to spending time together every day, Mr. Bedner calls his wife every night just before bed. "I call her to tell her I love her and will see her tomorrow," he says.
Living in separate accommodations guarantees that Mr. Bedner receives physical therapy in the building in which he resides and his wife receives the care and services she needs to maintain her memory and safety. "When I first came to Country Meadows, I needed a lot of help, but now I'm much more independent," he says, adding, "My orthopedic doctors tell me that my therapy is the key and to keep doing it because it's working the muscles to build strength."
While he receives the services he needs, Country Meadows' co-workers help Mrs. Bedner by providing opportunities for her to participate in brain fitness activities as well as fun and intellectual stimulation to help her maintain the memories she has.
"We want to build on her strengths, interests and abilities and maintain that familiarity that she's become very comfortable with," says Sirianni. "Aging is a challenge, but marriage is a choice, and to choose to still be together is a journey that we want to be a part of."
While Mr. Bedner misses sharing a home with his wife, he has found camaraderie with other residents whose spouses reside in another building. And he's thrilled that family members know this loving couple is receiving the care each of them needs. "Our children know that we are safe and sound and that it important to them. It's a very comfortable feeling," he says, adding, "And Joyce has settled in pretty good." She chimes in, taking his hand, "Oh yes, I love it here!"