At 93 years young, Frances Uhler loves playing cards and walking at least three miles every day. Currently a resident at Country Meadows of Bethlehem, Uhler cannot wait to move into her brand new apartment at Country Meadows of Forks in Easton, when construction is complete this summer.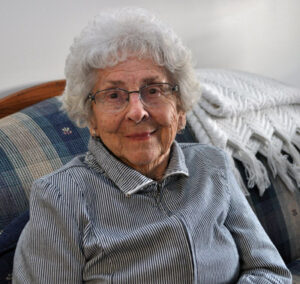 In the meantime, Uhler is familiarizing herself with the Country Meadows lifestyle at the nearby Bethlehem campus, and is enjoying the carefree lifestyle.
"The people who work [at Country Meadows] have a great respect for you as a person, and try to make everything little nicer for you," she says. "They constantly find ways to improve so we enjoy living here even more."
One of her favorite hobbies is playing cards, and she has found a core group of friends to play Pinochle, Rumikub or whatever card game is on the schedule. It has helped her to make friends. "You meet a lot of people when you play cards," she says, adding, "I have a nice warm group of friends here. We play games and it's so much fun."
She even introduced a new game that has become so popular she had her granddaughter print the game's instructions. "People knock at my door and say 'we want to learn how to play Hand and Foot. All I have to do is give them the instructions and say 'this explains it.' It works out just fine."
However her favorite activity is taking walks, and her face lights up as she talks about her current walking routes in Bethlehem for her three to four mile hikes. "I love to walk, absolutely love to walk."
Sometimes she walks through the suburban neighborhoods surrounding the campus, or on the campus of Northampton Community College just across the street. In fact, she's enjoyed conversations with students who often ask her if she is "from where the old people live?" She laughs and says, "I don't care, I say 'yep, and I don't' mind telling you that I like living with the other old people.' [The students] are a very nice group and I've enjoyed their company."
As much as she enjoys walking in Bethlehem, Uhler is excited about returning to her "roots" in Forks Township and the "routes" she can walk there.
"I love to walk along the Bushkill Creek and am hoping to find [a new neighbor] who also likes to walk," she says. "There are nice people wherever you go if you take the time to find them."
She's excited to return to her local community where she will again live close to her church, bank, hairdresser and other establishments she regularly visits.
Born and raised in the Easton area, she says, "I'm very enthused about Forks, it's going home."